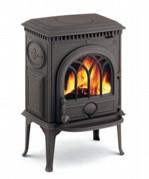 The Jøtul F 3 TD is a design classic.
Originally imported as the Peis 3 and No 3 in the early 80s the classic design hasn't changed much over the years. It has been available in Black Paint (BP), Blue Black Enamel (BBE), Ivory (IVE), Ocean Green Enamel (OGE) and Brown Majolica Enamel (BRM)
You can identify the F 3 TD by the following features:
No separate ash pan under the stove (compare to modern F3 'clean burn')
Single, simple, cast iron baffle
Rear burn plate has distinctive fluted top part
Jotul F3 TDA version was released with an ash bucket under the grate.
A multi fuel conversion kit is available.
The Jotul MF3 (a multi fuel version) is based on this stove but has a separate ash pan underneath.
Name
Part No
Price
Details
Burn Chamber
Bottom plate Inner F3 TD
12015220

£98.88

View
Burn Plate Rear F3 TD
12015222

£89.08

View
Burn plate Side F3 TD
12015224

£36.40

View
Baffle plate F3 TD
12015555

£50.04

View
Grate F3 TD/F8
12016307

£55.68

View
F3 Multifuel Conversion Kit Riddling Grate
12016942

£61.38

View
Multi Fuel Grate Kit F3 TD
51012185

£189.44

View
Doors
Door without vent, without glass F3 Black Paint (BP)
12020829

£208.62

View
Door complete without glass F3 Blue Black Enamel (BBE)
12020969

£353.58

View
Door complete without glass F3 Ivory (IVE)
12020970

£451.60

View
Door complete without glass F3 Ocean Green Enamel (OGE)
12020971

£368.10

View
Door complete without glass F3 Black Paint (BP)
12020972

£257.62

View
Door complete without glass F3 Brown Majolica Enamel (BRM)
12021729

£378.40

View
Door without vent without glass Blue Black Enamel (BBE)
153340

£382.78

View
Gasket Rope
Gasket for smoke outlet (round pad)
10023960

£8.52

View
Gasket 4.8mm Diameter x 5m
Used for: Gasket for Air deflector (410mm), Gasket for glass (1200mm)
50027201

£26.11

View
Gasket 8.7mm Diameter x 5m
Used for: Gasket for door (1500mm)
50027202

£25.32

View
Gasket 9.5mm Diameter x 5m
Used for: Gasket for top plate (1800mm)
50027203

£26.11

View
Gasket 6.4mm Diameter x 5m
50027205

£24.55

View
High Temperature Silicone Sealant & Gasket Adhesive
Flexseal

£9.00

View
Glass
Glass F3 CB and TD
10024008

£81.66

View
Glass Clip
12020930

£7.44

View
Glass Cleaner (400ml)
GLASS002

£7.00

View
Handle
Handle for door, straight, nickel plated
10019986

£21.64

View
T Handle Locking Bar
10024022

£11.88

View
3+8Td/A-Door Knob For Ivory
10024024

£7.80

View
Wooden Knob For Handle
10024025

£7.80

View
Handle for door, straight
12015514

£17.44

View
Door Handle Curved Black
12017310

£ POA

View
Handle Curved Black Painted
12017311

£14.80

View
Handle Curved Nickel Plated
12020110

£21.90

View
Wooden knob and small parts
12020634

£17.92

View
Handle For F3 TD Multi fuel Kit (51012185)
12020872

£26.26

View
Legs
1 Leg 215mm Blue Black Enamel (BBE)
12015034

£38.38

View
1 Leg 215mm Ivory (IVE)
12015035

£45.30

View
1 Leg 215mm Ocean Green Enamel (OGE)
12015036

£41.68

View
1 Leg 215mm Brown Majolica Enamel (BRM)
12015039

£33.70

View
1 Leg 215mm Black Paint (BP)
12015042

£27.40

View
4 Short Legs 155mm Ocean Green Enamel (OGE)
350328

£93.54

View
4 Short Legs 155mm Indigo Blue Enamel (IBE)
350352

£177.22

View
4 Short Legs 155mm Grey Enamel (GRE)
350938

£110.34

View
4 Short Legs 155mm Blue Majolica Enamel (BLM)
351148

£110.34

View
4 Legs 215mm Blue Majolica Enamel (BLM)
351150

£ POA

View
4 Short Legs 155mm Black Paint (BP)
51012177

£80.00

View
4 Short Legs 155mm Blue Black Enamel (BBE)
51012178

£130.00

View
4 Short Legs 155mm Ivory (IVE)
51012179

£140.00

View
4 Legs 215mm Black Paint (BP)
51012223

£90.00

View
4 Legs 215mm Blue Black Enamel (BBE)
51012224

£100.00

View
4 Legs 215mm Ivory (IVE)
51012227

£160.00

View
4 Legs 215mm Grey Enamel (GRE)
51012236

£ POA

View
4 Legs 215mm Brown Majolica Enamel (BRM)
51012279

£140.00

View
Miscellaneous
Insulating plate, bottom
10013066

£32.08

View
Air Vent Slider. F3/F8. Chrome.
10019989

£23.80

View
Spring Catch
10023838

£3.96

View
Hook For Handle F3 TDA/8A
10024188

£5.86

View
Blanking Plate F3 TD & F8 Blue Black Enamel (BBE)
10196227

£59.86

View
Blanking Plate F3 TD & TD Ocean Green Enamel (OGE)
10196232

£60.54

View
Base Plate F3 TD Blue Black Enamel (BBE)
10202627

£281.44

View
Back Plate F3 TD Blue Black Enamel (BBE)
10203027

£242.34

View
Top Plate F3 TD Blue Black Enamel (BBE)
10203427

£224.52

View
Traverse Bar
12014263

£6.82

View
Blanking Plate F3 TD Ivory (IVE)
12015105

£65.50

View
Blanking Plate F3 TD Brown Majolica Enamel (BRM)
12015107

£ POA

View
Blanking Plate F3 TD Black Paint (BP)
12015108

£51.96

View
Bottom Plate F3 TD Ivory (IVE)
12015174

£319.86

View
Bottom Plate F3 TD Ocean Green Enamel (OGE)
12015175

£282.76

View
Bottom Plate F3 TD Brown Majolica Enamel (BRM)
12015177

£ POA

View
Bottom Plate F3 TD Black Paint (BP)
12015178

£166.90

View
Back Plate F3 TD Ivory (IVE)
12015184

£242.34

View
Back plate F3 TD Ocean Green Enamel (OGE)
12015185

£219.88

View
Back plate F3 TD Brown Majolica Enamel (BRM)
12015186

£ POA

View
Back plate F3 TD Black Paint (BP)
12015187

£137.82

View
Side plate F3 TD Ivory (IVE)
12015191

£194.08

View
Side plate F3 TD Ocean Green Enamel (OGE)
12015192

£174.88

View
Side plate F3 TD Brown Majolica Enamel (BRM)
12015194

£ POA

View
Side plate F3 TD Black Paint (BP)
12015195

£112.12

View
Top plate F3 TD Ivory (IVE)
12015200

£251.04

View
Top plate F3 TD Ocean Green Enamel (OGE)
12015201

£225.88

View
Top plate F3 TD Brown Majolica Enamel (BRM)
12015203

£ POA

View
Ash lip F3 Blue Black Enamel (BBE)
12015208

£79.54

View
Ash lip F3 Ivory (IVE)
12015209

£119.98

View
Ash lip F3 Ocean Green Enamel (OGE)
12015210

£78.12

View
Ash lip F3 Brown Majolica Enamel (BRM)
12015213

£114.82

View
Ash lip F3 Black Paint (BP)
12015215

£34.26

View
Front Plate F3 Black Paint (BP)
12015549

£104.83

View
Ash/Log retainer F3 Black Paint (BP)
12015553

£42.28

View
Air deflector F3 Black Paint (BP)
12015558

£70.87

View
Ignition Vent Cover F3 Blue Black Enamel (BBE)
12016001

£16.32

View
Ignition Vent Cover F3 Cover Ivory (IVE)
12016002

£28.78

View
Ignition Vent Cover F3 Ocean Green Enamel (OGE)
12016003

£17.88

View
Ignition Vent Cover F3 Brown Majolica Enamel (BRM)
12016006

£28.78

View
Ignition Vent Cover F3 Black Paint (BP)
12016008

£9.28

View
Bottom Grate Outer MF3
12018843

£70.60

View
Top Plate complete F3 TD Black Paint (BP)
12021609

£238.24

View
Vent, lower
12029634
N/A
View
Round Knob, plastic
124516

£13.42

View
F3 TD Multi Fuel Kit Ashpan
190020

£72.44

View
F3 TD Multi Fuel Kit Bottom Tray
190021

£47.24

View
Spark screen
350166
N/A
View
Heat Shield Complete F3 TD / MF3
350319

£242.28

View
Paint
Bottle of touch up paint Blue Black Enamel (BBE)
10024146

£31.36

View
Bottle of touch up paint Brown Majolica Enamel (BRM)
10026262

£30.00

View
Bottle of touch up paint Ocean Green Enamel (OGE)
128543
N/A
View
Bottle of touch up paint Ivory (IVE)
50012790

£30.00

View
Jøtul Single Can Black Paint Pre 2018 - 400ml
50027282

£14.83

View
Jøtul Single Can Black Paint 2018 onward - 200ml
50052674

£22.94

View
Jøtul Black Paint Pre 2018 - 400ml - Case of 12
PAINT001

£132.05

View
Screws and Fastenings
Nut 6K M6
10023475

£0.76

View
Screw Hex Head M6 X 20mm
10023540

£0.88

View
Screw Hex Head M6 X 16mm
10023541

£0.88

View
Screw Hex Head 6K M6 X 12mm
10023545

£0.94

View
M6 X 8Mm Screw Allen Key Head
10023561

£0.78

View
Washer F St Iron P3/8Td (Ic)B
10023578

£0.88

View
Washer Round 6mm dia X 12mm X 0.5mm
10023579

£0.88

View
Pin 5 X 24 Mbt
10023592

£1.26

View
Washer
10023598

£1.38

View
Screw Pan H Pos M6 X 40 Elz
10023611

£1.00

View
Screw hex. cap flange M8x20mm
10023662

£1.02

View
Screw Hex Cap Flange M8x25mm
10023663

£1.06

View
Screw
10023689

£0.83

View
Locking nut
10023698

£ POA

View
Washer, insulating
10023919

£1.06

View
Hinge Pin, Nickel Chrome
10023975

£1.08

View
Spring
10024011

£1.27

View
Sleeve
10024023

£2.80

View
Hinge pin, black chromated
10024103

£1.08

View
Smoke Outlets & Flue Collars
Smoke outlet, complete 150/175mm F3 TD/F8 Black Paint (BP)
12020600

£69.90

View
Smoke outlet, complete 150/175mm F3 TD/F8 Ocean Green Enamel (OGE)
12020602

£ POA

View
Smoke outlet, complete 150/175mm F3 TD/F8 Ivory (IVE)
12020603

£91.44

View
Smoke outlet, complete 150/175mm F3 TD/F8 Blue Black Enamel (BBE)
151884

£84.72

View