---
Jøtul F 145 BP Spare Parts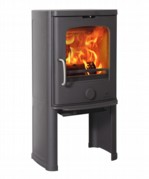 The Jøtul F 145-series is a small, classic stove with a modern touch to it.Beautiful soapstone cladding offers heat retaining function, and frames the unobstructed view of the flames. For rooms with limited space or low heat requirements, this is an ideal choice.
Though small, Jøtul F 145 can hold logs up til 30 cm. A practical ash pan and riddeling grate comes standard, and makes it user friendly and easy to clean. Extra convection plates are available as accessories, and enables installation close to combustible materials.
Help picking your parts
Translate old part numbers.

The exploded diagrams and spare parts list often have old part numbers, or you might have a cast number on the part in your stove.
Spare Parts
Jøtul Group Spares, Willicote Farm, Campden Road, Stratford-upon-Avon, CV37 8LN.
[email protected]
Operated on behalf of Jøtul UK by Database Direction Ltd. Company Registration No: 3203249